You don't think about it much – you call for an emergency plumbing job, they come in and do a bang up job, you pay them, and it's the end of the story. Â Except, there's one more step you should take: Â leave them a review on their work.
So, why are reviews so important?
It used to be reviews were a word of mouth thing – if someone did a good job, you tell your friends. Â It still happens, but it's slowed down considerably, partially because of the changes in how we find service professionals. Â First, it moved to the Yellow Page, where finding a plumber often consisted of the first name or advertisement that sounded good. Â Then, slowly, it's moved online to Googling for local plumbing companies.
With each change, it's also changed how service professionals like plumbers attract attention. Â With the phone book, it was a matter of having a good advertisement. Â The bigger the better. Â With the online world, having both a good advertisement on Google and reviews is one of the keys to success.
Unfortunately, advertisements on Facebook, Google, and other locations are out of the realm of most small plumbing companies. Â It's impossible to spend money on advertising at the levels that big companies do marketing, while still providing services at a price much lower than the big companies. Â Ever wonder why the big rooter companies cost so much more? Â Marketing is just one of their major pieces of overhead. Â Google AdWords could easily cost $1,000 a month, and ads on other networks like Facebook could easily run into the same costs. Â Advertising across multiple networks, like the big guys do, and it's thousands a month.
Reviews, however, are one of the ways of evening the playfield. Â When someone does a search on Google, one of the factors people use in selecting a plumber (or any service professional) is the aggregate score people see under the name. Â How many stars, and how many people have review the company is important. Â Surprisingly few people actually fill out those reviews. Â But, even one review for a small guy ends up counting for a lot. Â There's a ton of plumbers out there, for instance, who have zero reviews, and therefore show zero stars by their results. Â It reduces the amount of people who'd be willing to use them because they aren't trusted, and also drives their Google rank somewhat.
When we're done fixing your clogged drain, or re-plumbing your rental, or putting in a new sewer line, give is a review. Â Be honest, of course – we're not asking you to say you liked the work if you didn't. Â But, don't do it just for use – anytime you've got a contractor you've worked with, hunt them down on Google and give them a good review. Â You're helping keep the small guy keep marketing costs down, and keep them in business in a highly competitive world.
You can review us on Google here, or your can review us on Facebook here.
Social Media links are important, too.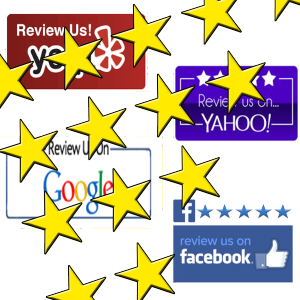 I mentioned that word of mouth referrals used to be one of the major marketing strategies for service providers. Â Now, that portion of marketing has been replaced with social media users – people like you. Â Facebook, Twitter, LinkedIn, and other networks now act as the word of mouth. Â Big companies have to pay for all those ads – but, a satisfied customer that tells everyone else on Facebook or Twitter that they're satisfied? Â Bigger companies can't pay for that sort of thing.
So, take a moment to like us on Facebook, Twitter, or Google+, and tell everyone that you liked our work. Â But, just like reviews, don't just do that for is – always do it for any contractor you use. Â Tell everyone about those small business you use, and you'll help out a local business owner (and the local economy – whenever possible, buy local).